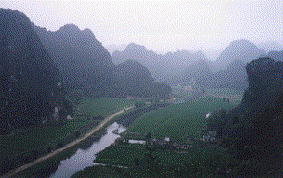 Bich Don
The scenary of Bich Don is ordinary in south China and north Vietnam. Most famous scenary in Vietnam is Ha Long bay. Bich Con can be said inland ha Long.
Bich Don is about 100km from Ha Noi. Near Bich Don, there are some old temples. And you can climb hills. From those hills, you can see very good scenary. The tour to Bich Don cost you $15 (spring 1996).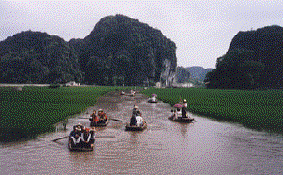 Boat trip
The highlight of the tour is boat trip. You ride on the small and shallow boat. The rower of yourboat is women. In Vietnam, many hard works are done by women. The total time of the boat trip is two and half hour. It was very comfortable experience to go up the river.
But there is one problem. The rower want to sell some souvenir such like handkerchief or handicraft. Vietnamese are very patient and tough, so if you show some interest, you will be suffered endless attack, especially in the backway.