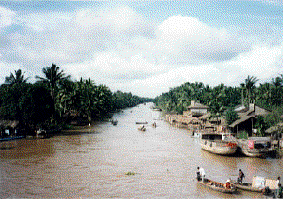 Can Tho
Can Tho is the centere of Mekong delta. You take 5 hour trip from Saigon. CanTho is along on the Hau Gian (one of the main river of Mekong).Can Tho market is full of food, such like fish, vegitables, fluits,meat and so on. Can Tho market is said to be the biggest food market in Vietnam.
Mekong delta tour in Can Tho take you with small boat. You will reach small branch of Mekong river. You can visit water market, snake market, rice factory, rice field and so on. Total tour time will be 10 hour or so.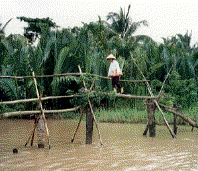 I was get by one Vietnamese on the ferry for Can Tho city. He is the manager of a guest house near the Khmer temple on Hoa Binh street. He is very kind and polite. I stayed there three days. It is good place, so if you want to visit there, please tell them how I felt.
The address of the guest house is below.


Doan An Duong Hotel
Address: 3 Hoa Binh Can Tho Tel:01-71-22176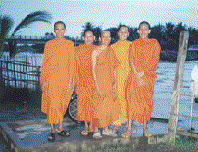 People of Khmer
Mekong delta was once the land of Khmer. So there are many Khmer people in Can Tho city. Khmer people is very mild. Of course Vietnamese is very kind, but the character of those two poeple are much different. Khmer is more mild but rather loose.
When I visited Khmer temple, some young monks spoked to me. They studied Enlish, so they tried to speak to foreign tourist to brush up their ability. After some joyful conversation, they asked me to join the daily obligation. It is good chance to know the life of them, I decided to join them at once. Their obligation in the evening is visiting other temples near the city. At there elder monk taught them the spirit of Bhuddism.