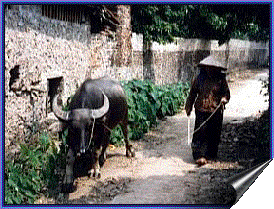 My Tho
My Tho is about 70km from Saigon, locate the entrance of Mekong delta. The size of the city is small, and lack of stimulation. You can feel some comfort or tiresome.
One day tour from Saigon take you to boat trip, anake farm, fruits garden and some temple. But the true joy of delta tour is in the branch cruising of the river. So you should better to go to Can Tho or other cities of Mekong delta.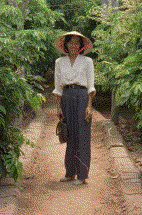 My first visit to My Tho was on the one day tour from Saigon. It was hold by Saigon Tourist, which cost me $50. But the tour course was the same that I wrote.
But on the boat trip and visiting fruits garden, a charming woman guided me. The guest is me alone so we have nice conversation all the time. I could understand how young Vietnamese feel their own country and the life in Vietnam, or what is the custom in Vietnam. It is one of the good memory in Vietnam. I was impressed again that Vietnamese women were very charming!!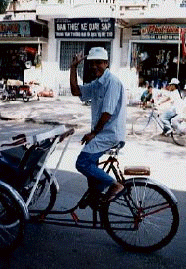 When I visited My Tho second time, I met Mr. Sach. Mr. Sach is xicro man, but he has been studing Japanese over 20 years. He can speak English well. At first I thought he was a bad xicro man, because he asked me $3 for the way from bus terminal to the center of My Tho. I know the price, so I said to him it's too high. After some negotiation we reach the point we could allow.
He took me to the guest house. I decided one near the river. After that, he took me around the city. The market is most interesting for me. Many food displayed there; colorful fruits, rice, ducks and so on.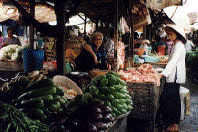 After visiting the market, he took me to some shop. One of there, there was a woman who can speak Japanese. She was a student of him. Mr. Sach taught Japanese for some people in My Tho.
Along the river many children juumed into the river and some old men swim in the river. I don't want to swim in the brown river like there...