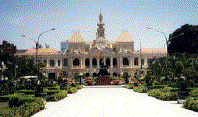 Sai Gon
Vietnamese call Ho Chi Minh city as Sai Gon. Sai Gon is old name of Ho Chi Minh city. Of course, Ho Chi Minh is the name of the first president of People's Republic of Vietnam, known as Uncle Ho.
For nothern Vietnamese, the name of Ho is sacred. But for southern Vietnamese, the name of Ho is the symbol of communism. So they do not want to call the city as Ho Chi Minh. And Ho Chi Minh city include the region of old Sai Gon, Gia Dinh, Cho Lon, so it is natural to call the center of Ho Chi Minh city as Sai Gon.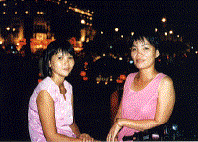 Night of Sai Gon
In night, Vietnamese go to outside to feel cool air. Most of Vietnamese don't have air condition, so going outside is the only way to cool down. If they have motor cycle, they ride on it and go around without doing somethig. The girls of this picture took cool air outside and told me how to eat cakes which I bought near there.

Sai Gon is modern...
Saigon is the largest city in Vietnam, much different from others. Only Saigon is modern city, and other cities are local city. The center of Saigon is full of neon light, you may feel that you are in other countries.
I have many friends living in Saigon, but I don't like Saigon so much. I prefer local city. Saigon is full of noise and lust.